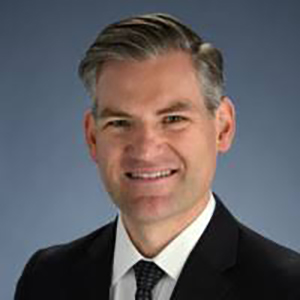 Jason Grundstrom
Executive Director of Continuum of Care
University of Kansas Health System
Jason Grundstrom is a graduate of Purdue University and the University of Kentucky,  with a Bachelor of Science in School of Health Science and a Masters of Health Administration, respectively.

Prior to coming to The University of Kansas Health System in  2018, he served as the Market Chief Executive Officer for Kindred Healthcare in Kansas City and St. Louis. prior to that the Service Excellence Manager, at Norton Women's and Children's Hospital in Louisville, KY. Jason completed his administrative fellowship at Northshore University Health System in Evanston, IL.

Currently Jason is the Executive Director of Continuum of Care and Telehealth. During the Pandemic Jason lead the team that brought Telehealth online in a matter of weeks connecting all of our care providers with both new and established patients. Jason lives in Fairway, Kansas with his wife Erin. He enjoys spending time with his family and friends, running, reading, playing the violin and piano. He is a member of the American College of Healthcare Executives and is currently seeking fellow credential.