For several years, New Birth Company Kansas City, Kansas has offered alternatives to hospital birthing in Wyandotte County. These alternatives helped create natural birthing experiences and allowed for affordable options for mothers in our community to give birth. This location in WyCo has helped countless low-income families and BIPOC give birth in a way of their choosing, with a medical professional they built a trusting relationship with prior to the birth by their side.
Unfortunately, the birthing center in WyCo was shut down at the beginning of July due to changes in regulations. In a recent press release, New Birth Company CEO, Co-Founder, and Mom, Kendra Wyatt, stated, "The market simply failed to provide competitive insurance options, especially during the unprecedented challenges over the last year. Numerous factors contributed to this closure, but chronically low Medicaid reimbursement rates for certified nurse midwives and birth centers has exacerbated it."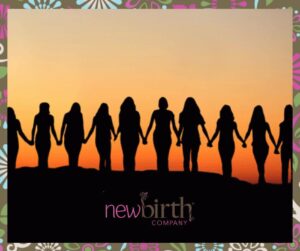 The closing of New Birth Company in WyCo is devastating for our community because of what it provided for our mothers and families. The mortality rates for women and infants of color are incredibly high due to challenges mothers face in the healthcare system, such as quality of healthcare, structural racism, and implicit bias, according to the Center for Disease Control. Black women's pregnancy-related mortality rates are 40.8 deaths per 100,000 births, the highest out of any other ethnic group, and black infant mortality rates are 12.9 deaths per 1,000 births. Many women of color don't feel comfortable going to a hospital throughout their pregnancy, the day of their birth, and postpartum because of distrust in healthcare to provide necessary support and care.
Not only does shutting down this center show birth inequity, but it also displays inequities in healthcare and mental health awareness for BIPOC and low-income families.
What We're Doing to Combat This Issue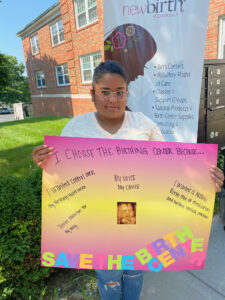 One of our amazing Maternal Community Health Workers, Carla Moralez, worked alongside this center for quite some time to help women receive proper care and support. She attended a recent rally that was protesting the closure of the clinic, because she believes in what the birthing clinic is doing to help our community. Carla chose to work with the birth center as a MCHW because she understood that this center gave families more choices over their bodies and their births.  Now the opportunity to have control over their birth has been taken away from mothers and families all over Wyandotte County.
During this BIPOC Mental Health Awareness month, we all need to recognize these inequities. The closing of this center did not take away just another general medical facility. It took away options for mothers to have control, feel safe, have an affordable birth, and know that themselves and their baby are taken care of to the highest degree. These inequities need to be acknowledged and changed for proper equality to ensue.