Through a generous grant via the United Health Foundation and in cooperation with KC Care Clinic, CHC of Wyandotte County's Community Health Worker initiative seeks to improve health across Wyandotte County. From time to time, we want to showcase some of the success stories from our health workers: 
"In June 2016, I received a phone call from a Burmese speaking client. She mentioned that she needs help with her past medical bills and better understanding between her and OBGYN doctor regarding prenatal care. She was very concerned about her prenatal care because of her miscarriage experiences in the past. I  scheduled home visits and enrolled her into the program. I visited the OBGYN doctor with her and stated requesting a working restriction letter so that she can do easier work at her job. The doctor wrote a note for job restriction at work because my client was concerned about miscarriage. She also started prenatal vitamin for her and the baby. A week later, I called her and she said Supervisor assigned her at a better and easier task. I called about her past medical bills from Providence Medical Center from my office. We provided them her household income with pay stubs for her and her husband. I also helped her to apply for Medicaid for Prenatal woman but it was denied. After two months, she received a letter from Providence Medical Center regarding her Medical Assistance application. The letter said Providence Hospital has been processed and services for client at no charge.  I visited OBGYN doctor with her several times. I also reminded her of her appointments. I helped her register at Shawnee Mission Medical Center in October, 2016 for delivery.
November 1, 2016 I received a called from her, saying that she delivered her first beautiful baby in the evening of 10/31/2016. I was very happy for her and also happy for my service to her."
—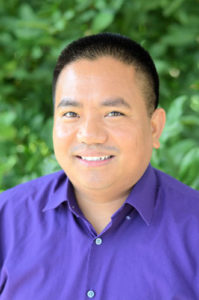 Za Ceu Lian is a community health worker who serves Wyandotte County's English, Chins & Burmese speaking communities.